THIS PAGE IS UNDER CONSTRUCTION
Please contact pro shop directly to check availability and reserve a Solo Rider
Please listen to the entire message and then press 1 to be transferred to the pro shop.
City Park Pro Shop:  720-865-3410
Harvard Gulch Pro Shop:  720-865-0450
John F. Kennedy Pro Shop:  720-865-0720
Overland Park Golf Course:  720-865-0430
Wellshire Golf Course:  720-865-0440
Willis Case Golf Course:  720-865-0700
COMING IN 2024!  We are looking forward to acquiring two stand and play golf carts.  We currently have a stand up and play cart at Harvard.  Please check with Harvard's pro shop to inquire on availability and to make a reservation.  720-865-0450 to connect with Harvard's pro shop.
The PGA HOPE (Helping Our Patriots Everywhere) Program introduces the game of golf to Retired Military as well as Military Veterans, in an effort to enhance their mental, social, physical and emotional well-being, and provides healing through golf. The HOPE program provides golf instruction, playing opportunities and social events with the goal of introducing golf as an enjoyable activity to assist with their rehabilitation progress, along with the assimilation back into life alongside their families and in their communities.
Wellshire Golf Course hosts PGA HOPE golf clinics every Spring and Fall. This is open to Retired Military and Military Veterans and their families. Accommodations for disabled participants is available. This program is FREE to vets and retirees.
2023 Spring program at Wellshire is full
For more information call Kirk Mease at 720.339.9751 or email at measebgd@msn.com
To see more about what PGA HOPE is about watch this informative video https://vimeo.com/230451690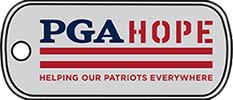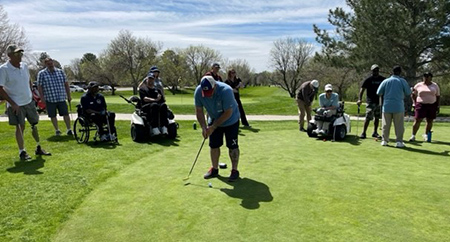 Help support our mission to improve accessibility and learn more about sponsorship or how you can support Denver's drive to create accessible and affordable adaptive golf. Email us at: adaptivegolf@denvergov.org